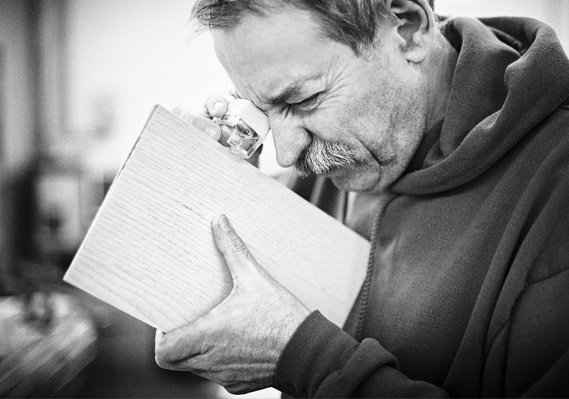 Who is actually behind Soulspin?
The creative mind behind SOULSPINis Michael Schneider – with 54 years of experience in building table tennis blades he is one of the absolute experts in this field and it all started with a white bread – but more about that later.
Michael starts the development of his first table tennis blades at the end of the 1970s after an apprenticeship as a model carpenter – very classically in his garage.
This was followed by a first table tennis shop with own production until he was hired by the company SUNFLEX as blade developer at the beginning of the 90s. To date, they have developed thousands of blades for a wide variety of brands in China.
Time for a revolution in Table Tennis
At the beginning of the 2000s he starts to build up a production in Neuwied for rubber adhesives. In the meantime the next generation, Claudia and Lukas, have entered production. The company is growing and the idea to develop an own, and above all very special, series of table tennis blades is born.
OUR IDEA
"The player should be able to design his Table Tennis blade individually – exactly as it needs to be."
So in 2010 we started with the mission to change the world of table tennis and bring it into the digital age. Our customers should be able to customize their table tennis rackets to their individual needs and configure their perfect blade.
After several months of development work, planning, CAD programming and hundreds of test runs, we launched SOULSPIN in 2012. And thus the world'sfirst and only configurator for table tennis blades.
Since then we have been building their perfect table tennis blades for table tennis players from all corners of the world. We are so happy about the great feedback & the many interesting people we got to know through this. Many thanks for that!
The SOULSPIN-Team
Claudia Schneider
Claudia manages our workshop and is the expert for CAD programming and CNC processing.
Lukas Pietzsch
Lukas keeps the business running as managing director and is the contact person for our customers.
Anna Sturmeit
Anna takes care of your orders and is the contact person for your questions.
Meanwhile we have a small but fine team of great employees, who build your perfect blade with a lot of heart and fun.
What does all this have to do with white bread?
All began end of the 60's in a bakery in Koblenz.
Michael worked for a baker early in the morning before school and delivered bread rolls by bicycle.
No net, but plenty of white bread
There he got to know the table tennis player Manni and quickly the first matches were played during the breaks. Since there was no net, a white bread had to replace it. Improvisation is everything.
The passion was quickly awakened and so he started already 2 weeks later at the Koblenz student championships.
From hobby to profession
It soon became clear that exactly this sport should become his profession. After his apprenticeship as a model carpenter, he began to develop his first own blades – without having any idea where the journey would lead.